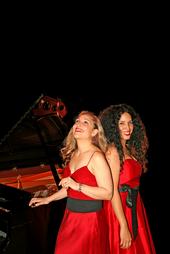 Rocío Olalde & Tania Naranjo
ROCÍO OLALDE (soprano)

Rocío was born in Mexico and studied at the University of Music and Performing Arts in Vienna under the leadership of Professor Ralf Döring, as well as at the Instituto Cardenal Miranda in Mexico City under Xavier Gozález and Rosa Rimoch. She has had master classes with the Italian tenor Antonio Carangelo and the Swedish soprano Karin Mang-Habashi.

She has performed as a soloist at several international festivals and productions. Her resonant voice, to which she adds powerful emotion finesse and expressiveness has gained her attention from the public as the press.
PROGRAM
1.-Salvador Moreno (1919-1999 México) To hey tlahtzin Cuauhtémoc, nuestro gran padre Cuauhtémoc (texto José Maria Bonilla 1889 –1957 Guatemala)
2.-Eduardo Cáceres (1955 Chile) El viento en la isla (Texto Pablo Neruda 1904-1973 Chile)
3.-Alberto Ginastera (1916-1983 Argentina) Zamba
4.- Xavier Monsalvatge (1912-2002 España) Yambambó (texto Nicolás Guillén 1902-1989 Cuba)
5.-Armando Montiel Olvera (1916 -1984 México) En esta clara mañana
| | |
| --- | --- |
| Personal site | |