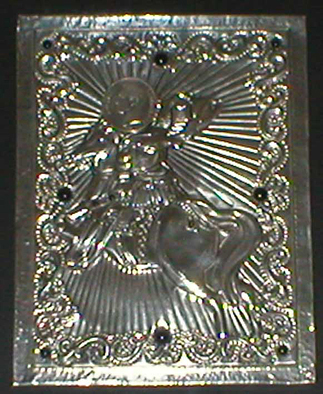 Simón Bolívar
TATIANA TISCHENKO:
Icons in popular culture

Born in Caracas, Venezuela. Lives and works in Caracas.

Studies in vitreous enamel, repoussé and chaassing, painting and ceramic. Solo and group exhibitions in Venezuela, Russia, Perú and Sweden.



Tatiana (1965) is the daughter to a Russian immigrant in Venezuela and a Venezuelan. She was baptized in the Orthodox Church but studied in Catholic schools. After studying sculpture, goldsmith work and metal embossing, she began to experiment with icons, mixing orthodox and catholic traditions with figures from the popular culture. She creates icons developed from the Orthodox tradition, such as Christ the Savior (Pantocrator). Using the same technique she creates different Virgin Mary, following the Catholic tradition. From the popular culture she takes Simon Bolivar and the cacique Gaicaputo, who fought against the Spanish in the XVI century.